Come summer vacations, and so would my Chef's hat. Like I have mentioned before, me and dad were avid followers of NDTV GoodTimes during the day and we would adapt so many recipes from there. This one was by Aditya Bal – a kid's fantasy burger – with lots of cheese, ketchup, and a caramelized pineapple. I decided to re-create this on a Sunday morning with a much healthier twist. Here's my Blast from the Past Burger.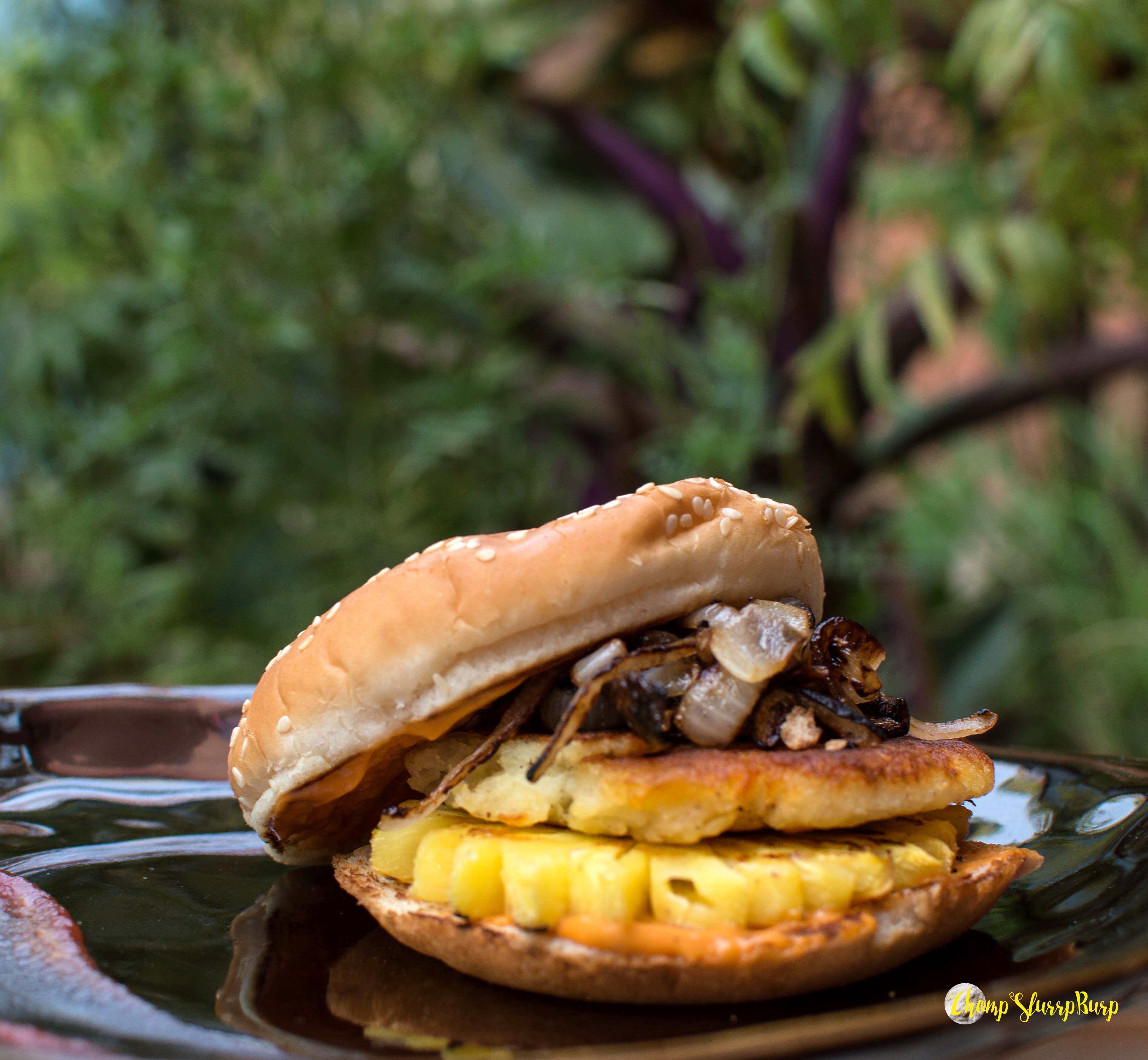 Ingredients, For the aloo patty –
Potato – 1, medium sized
Red chilly powder – a pinch
Garam masala powder – a pinch
Salt – to taste
Cornflour – 1/4 tsp
Olive oil – 1/2 tsp
For the burger –
Sesame seed/ wheat brand bun
Onion – 1 small
Butter – 1 tsp
Pineapple slice – preferable fresh, not canned
Cream cheese/ mayonnaise
Method –
Wash the potato and cut in half. In a microwave-safe bowl, place the potato with about 2 tbsp water and microwave for 4-5 minutes.
Drain the water and peel after the potato has cooled down.
Mash the potato, add the chilly powder, garam masala, corn flour, and salt. Mash well and make a thick patty.
Heat olive oil nonstick pan, and place the patty to cook slowly. Turn the patty t the other side once done. Cook on low-medium heat to get a crisp patty without the addition of a lot of oil.
Meanwhile, roughly chop the onions. Add the butter to a pan and add the onions. caramelize till brown. Remove and set aside.
Place the pineapple ring on the pan, and let the juices caramelize for a minute on each side.
Spread your choice of cream on to the bun, place the patty, add the pineapple and onions.
Savor with some fresh mustard and ketchup.
As a kid, of course, it also had a cheese slice that covered the patty and it was precisely this burger that made me quite like pineapples.
Hit me up if you want more such old-school recipes?