Despite and in spite of the fact that Duty Free's first outlet was in such close proximity, the first time I visited them properly was at this sprawling new property. Duty Free Vayu Bar is spread over two floors with a gorgeous rooftop. Koffee with Karan's anthem "Stop Making Sense" sprawled at the entrance and a gorgeous bar. The terrace works as a great date spot during the date with white pebbles, and flowy curtains and transforms at night.
The extensive menu at Duty Free makes sure you are in for a downright "tasty" affair.
We started with some cocktails that the bartender whipped for us, a beer sampler (they have about 7 kinds which are brilliant for Sector 29) and beer of course.
The meal began with complimentary popcorn and peanuts on every table.
Appetizers
And then a stunning preparation of Sharabi Chicken tikka. Succulent chicken tikka pieces, served on a sizzler plate, Flambeéd with whiskey. Deconstructed Samosa Chaat – crispies with masala aloo, yogurt, chutney and topped with rose petals. This novel kind of samosa chaat is spicy, an explosion of flavors and textures. Mongolian Mushrooms – button mushrooms stuffed with herbs and cheese, coated, fried and tossed in a sweet and spicy sauce. The mushrooms were among my favourites from Duty Free. Lots of textures, creamy flavours of the mushrooms. Vol au Con – puff pastry topped with vegetables, cheese and baked. The puff pastry should have been flakier and more buttery but would otherwise make for a great bar bite.
Dumplings
Duty Free has a great range of dumpings. I really liked the crystal dumplings and even though the skin was transparent, it was thicker than the usual variety of crystal dimsums. The mushroom gyoza was delicious, a meaty mushroom mince and bokchoy gyoza.
Pizza – Half & Half
Half and Half pizzas and possibly the best thing that happened to the city. Pizza Verde & Tandoori Chicken Pizza. A thin crust pizza, and yet with a rather fusion, desi touch to it. I do feel they could have used a lot more cheese to make it a decadent affair.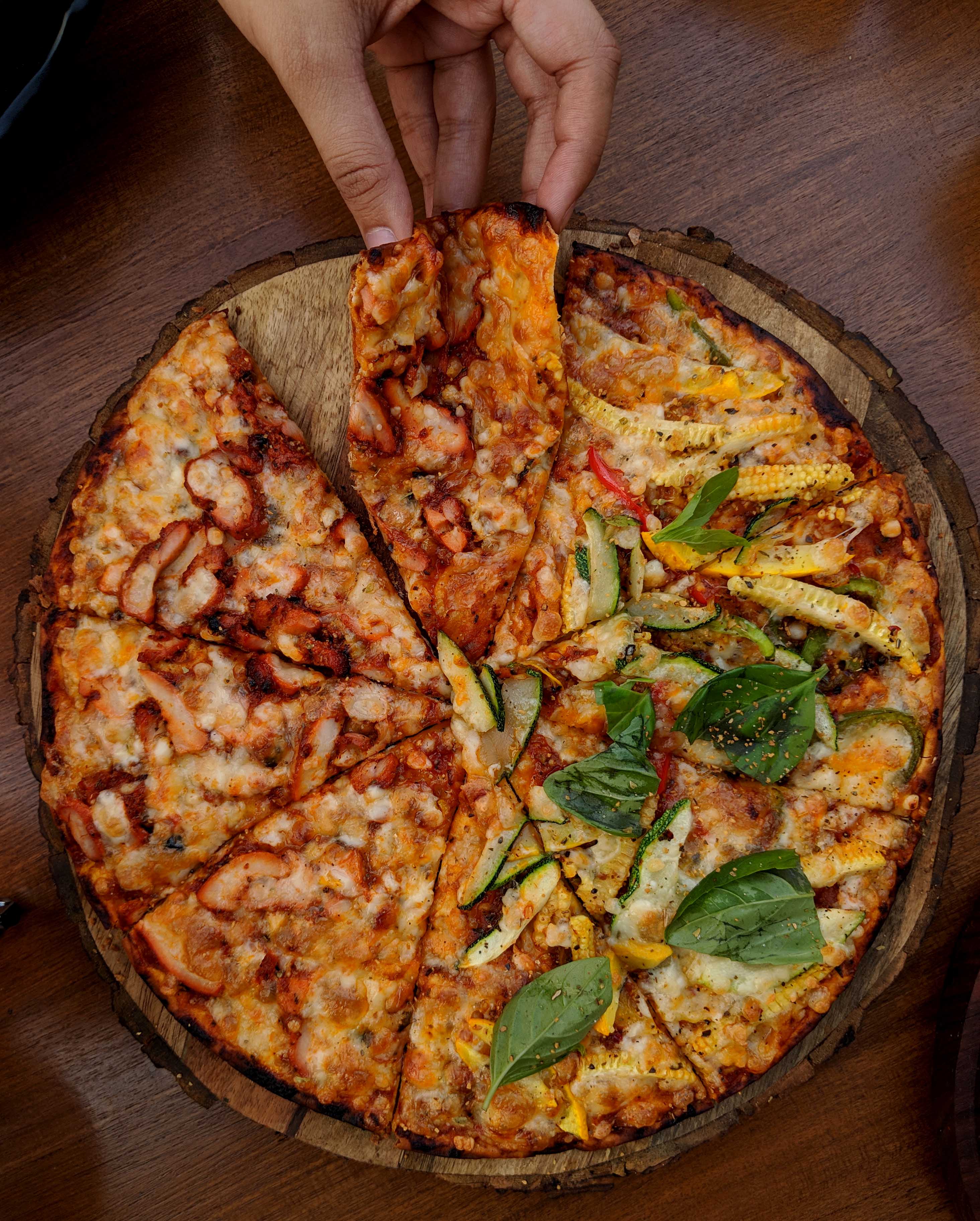 Large Plates
Duty Free offers you some delectable large plates – including great fusions, meal bowls, and hearty Indian mains. We opted for what I found the most intriguing on their menu. Dal Gosht Khao Suey – succulent pieces of mutton, cooked with dal in a delish gravy and Malabari parantha. And served with peanuts, fresh coriander, fried onions and garlic, ginger juliennes, chopped onions, and lemon wedges. I loved dressing up my dal gosht and I cannot wait to go back to try it.
Desserts
We ended our meal on two sweet notes, Daulat ki Chaat & Melting Chocolate Bomb. One of the wintery Delhi street treats, I relished this creamy version of daulat ki chaat than the Old Delhi one. The melting bomb was not only a visual treat. Loved the chocolate overload, ganache, and brownie. Check it out here.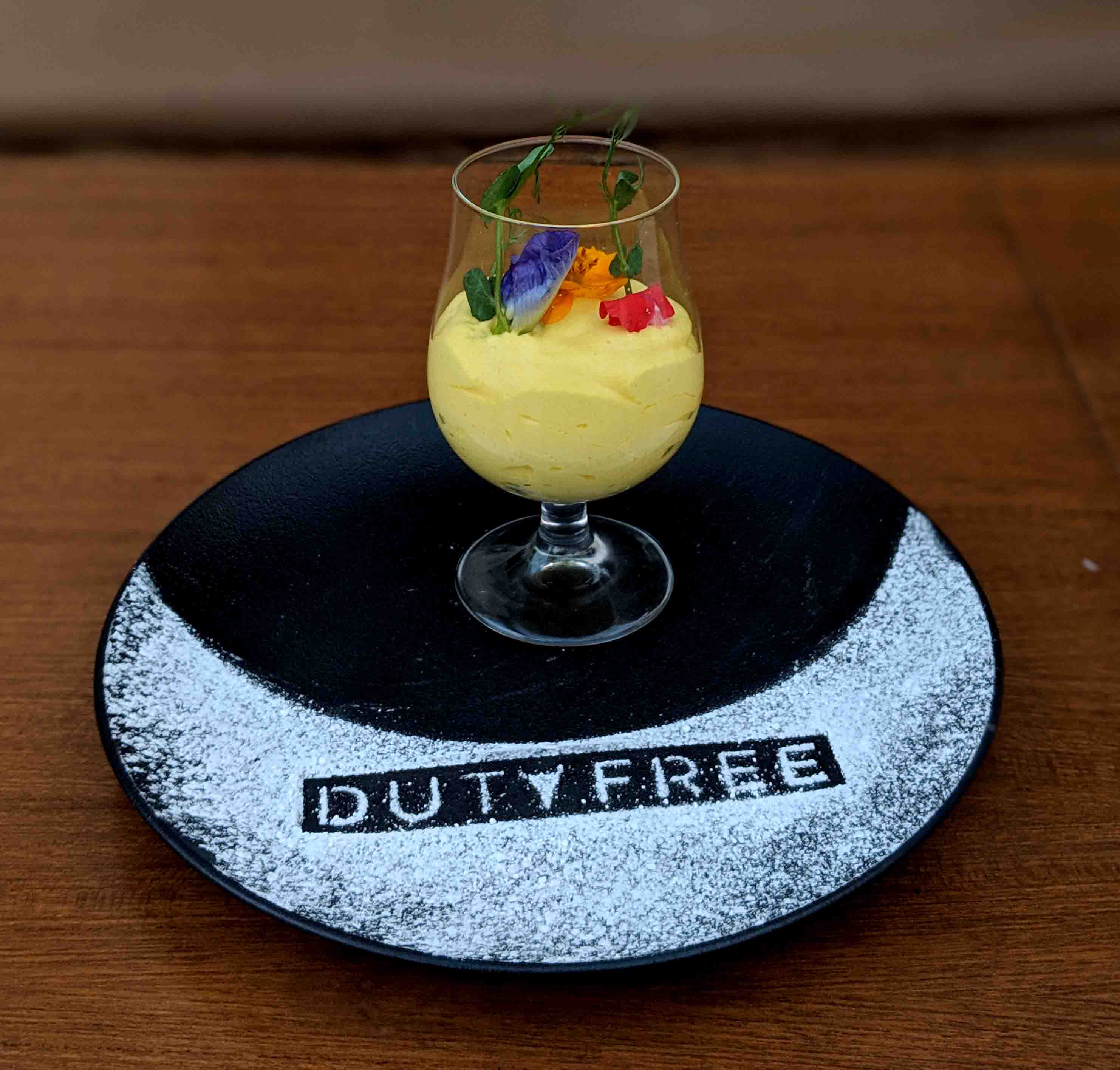 My top picks from Duty Free – Mongolian Mushrooms, sharaabi chicken tikka, mushroom gyoza, and dal gosht khao suey.
Where? Duty Free Vayu Bar, Sector 29, Gurgaon
Price for two – 1200INR approx
Cuisine – Indian, Fusion, Brewery