Cocktails, good pizzas among other things and it makes the sunny Saturday afternoon, SO much more interesting! Pebble Street has just opened up their newest at Kailash Colony, with their extraordinary drinks and sumptuous grub. Pebble Street is most famed for their stellar cocktails, great fusions and classics alike and high spirits. The yellow peppy walls and sunlight flowing in also makes this outlet very Brunch ready!
We kicked off the afternoon by trying their cocktails – the classic mojitos and GnTs, Beeritas and Margaritas, but the showstopper – their pitchers are insane. HUGE, literally HUGE glasses make drunch with your girlfriends absolutely perfect.
Starters
The grub started rolling in starting with fresh Classic Italitan bruschetta – freshly chopped tomatoes, onions and black olives topped with a fresh basil leaf, quite a bar bite. Phuket Fish – I am not sure how authentically Thai this fish was. But the fried fish, topped with lots of bell pepper and soy, topped with crispy fried noodles was saucy and the fresh fish absolutely delectable. Non-Vegetarian sampler –  mini bunny chow, chicken wings, chicken pita minis, and fish fingers. I loved the mini pitas from the lot, much like a cross between baos and pitas. The bunny chow, very flavorsome and toothsome, was slightly fatty for my taste.
Tex Mex Nachos – fresh, homemade tortilla chips, freshly muddled salsa, jalapenos and topped with sour cream. Roast leg of mutton – leg of mutton, or raan as we call it locally, sauteed vegetables and potato wedges. The succulent mutton raan bits with a palatable roasted masala. The non-vegetarian tikka platter – tandoori chicken tikka, malai chicken tikka, mutton seekh and fish tikka – my favourite was the mellow malai chicken tikka. Tandoori prawn sizzler – grilled prawns, spicy and a signature sizzled smoky smell!
Mains were a lavish affair as well
Pepperoni Pizza, nothing can really go wrong when it comes to pepperoni pizza! A crunchy thin crust, loads of cheese and smoked pepperoni. Chicken Steak with mushroom sauce served with mashed potatoes and sauteed vegetables. Absolutely loved the heart chicken steak and the mushroom sauce more so but the mashed potatoes lacked flavour and the creaminess. Butter garlic prawns – jumbo prawns, tossed in butter, chilly flakes, and garlic cloves, seasoned rice and gravy. This was my favourite dish of all time, solely for the light and refreshing flavors. Laal maas platters – chunky mutton pieces in a hot gravy, dal makhni and naan. I wouldn't call it authentic laal maas, the lack of heat and signature crimson red color, but the gravy was absolutely delish.
Dessert
Insanity in a Jar – Oreo, gems, chocolate brownie, ice cream, fudge and so much more packed into one crazy jar that you get a different flavor in every bite. Am I in Willy Wonka's factory already?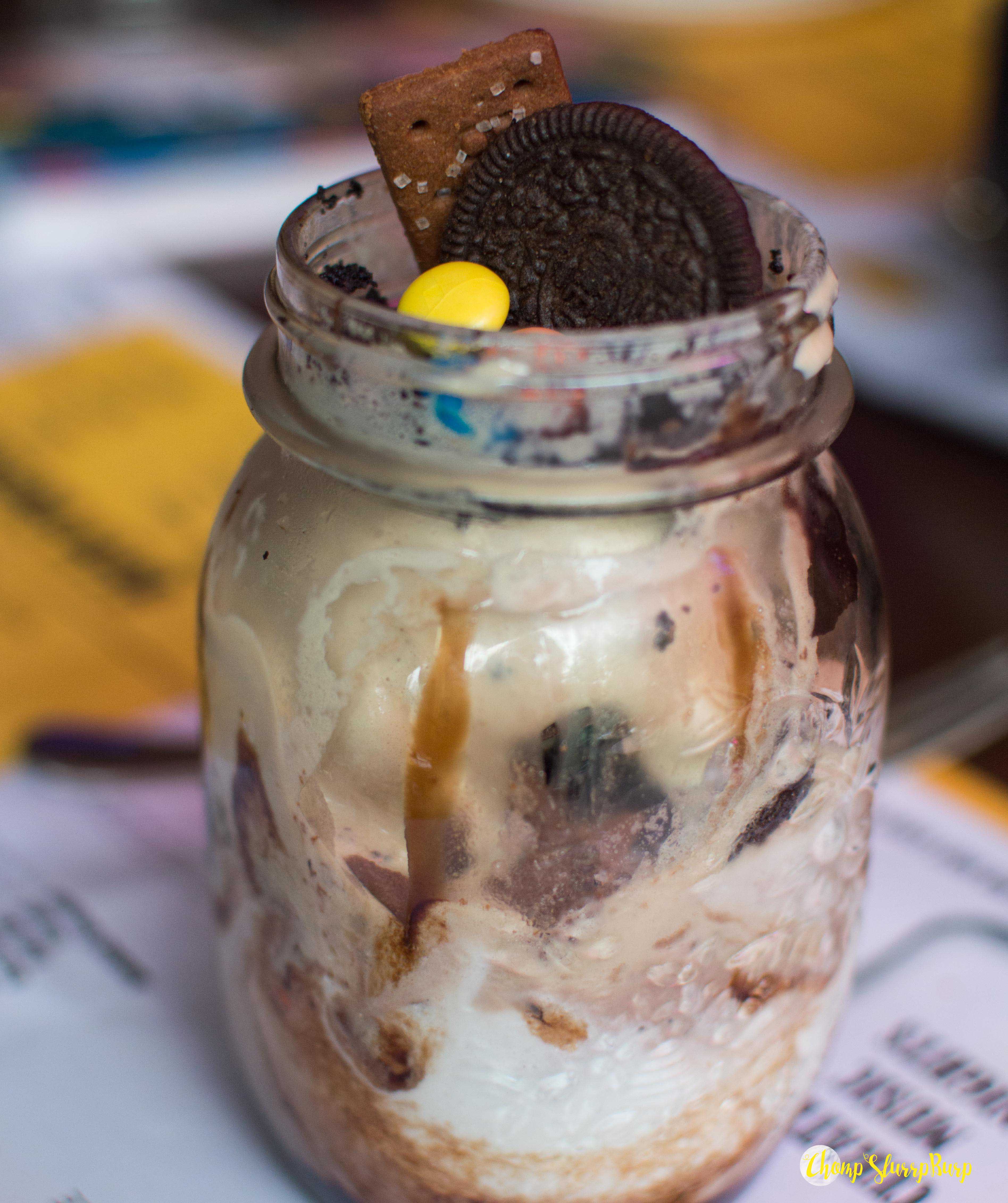 Pebble street offers some amazing dishes, my top picks, their prawns, pizzas, and chicken steak in mushroom sauce. And of course the drinks.
Where? Pebble Street, Kailash Colony
Price for two – 2000 INR
Cuisine – Multicuisine, Cafe, Pub