Lavaash by Saby is one of the few places that caught my attention in a really long time and I jumped on the opportunity of visiting this resplendent restaurant with one of the most unique cuisines – Armenian.
The location is enough to impress you – just behind Qutub Minar in the Ambawatta No. 1 complex. The arcade itself is nothing less than "fancy", with Manish Malhotra's atelier and Sabhyasachi Mukherjee's workshop near-by. The cafe is located on the first floor and is not spread over a huge area but is done very tastefully.
The ambiance is very bight and yet calming in a certain way. Window and door frames with contrasting curtains and upholstery made of flamboyant bright colour prints with Kantha embroidery.
They also have a mesmerizing outdoor seating area which is ideal for a warm winter day.
Dominated by blues and whites with lush greens peeping in from the vicinity, the outdoor seating has a bunch of seating options including a swing set and hammock swings and bewitching light fixtures.
The table ware is as smart as their decor – Menu cards laid out on the table including the story of the conception of the splendid place. The heavy ceramic plates and rustic, printed jute table napkins were most impressive.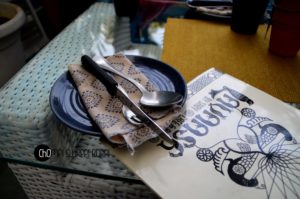 Jurasic Cheese Lavaash Pizza – Thin, wood brick oven fired crust with an assortment of very rare cheese which is not well known but indigenous to the state of Bengal. Salted and Smoked Bandel, kalimpong and arugula. Very novel and distinctive tastes and a truly scrumptious pizza.
Lamb Koobideh is a treat to the eyes and taste buds. Two huge, pound meat kebabs, char-grilled, giving them an irresistible aroma, served on soft pita. Accompaniments included spiced up onions, mint chutney and fresh mustard. This is a must have whenever you are at Lavaash.
We ordered Chicken Kalaygosh for mains, chicken and chickpea stew flavoured with whole spices and pomegranate seeds. The simplicity of the dish was proof enough for its brilliancy. We paired the dish with Lavash bread and Matnakash claypot bread. The Lavash bread is the only "bread" that has featured on UNESCO's list of intangible world heritage. Soft, slight spices and great texture.
The Matnakash Claypot Bread is one of the tastiest bread I have tasted. Baked in the claypot it was served in, crusty on the outside, baked with kaonji and pumpkin seeds and wonderful and soft in the inside. The bread went very well with the stew as suggested by the staff.
Armenian cuisine has a subtle palate and very fresh flavours. Couple it with a picturesque ambiance and you have a jackpot. Must visit.