Located next to Privee, there is a new party place in town – Novelé. And it holds true to its name. As a breath of fresh air, Novelé is so much more than your regular club with a novel cocktail paired menu. As we entered, we were stunned by the elaborate bar and bartenders crafting drinks with utmost precision. They are happy to help you to decide your drinks.
First Pairing
We started off with TWI, a stunning Jim Beam infusion with Artichoke and Herbal liqueur.  While this sounds weird, the hearty artichoke liquor imparted a tartness to the bourbon infusion which was amazing! The whiskey speaks beautifully throughout the body of the drink. Paired dish – Chicken Khinkali, a Georgian dumpling with succulent chicken stuffing with red wine butter sauce. Much like Asian dumplings, these were distinct by the sauce poured on the dumplings beautifully complementing the subtle flavors of stuffed chicken well.
Second Pairing
Tamil, which was the highlight of the paired cocktail menu. Smoky Talisker intermingled with vermouth and stout garnished with a sweet rasgulla making it the most unusual but such a spectacular garnish. Paired with Wine-braised Onion Khachapuri was a preparation world apart, The Raclette fondue, this a raw-milk cheese on the top of boat-shaped Kachapauri reminded me of the street style of onion kachauri.
Third Pairing
Pylmara Mule, crafted to perfection by our head mixologist Luca Cinalli. The drink is an exceptional mixture of Tanqueray gin, palm heart reduction, pineapple curry juice served straight up with ginger beer in a Leather bag. It was so stunning to see the mixologist wrapping up this drink into a piece of art. Paired with Berbere Fish, layered with lots of textures. A white fish guacamole with fresh avocados, beetroot, and apple tartar and grilled fish with baby potatoes, cherry tomatoes, and coconut foam.
Fourth Pairing
Kabuli Sour – Ketel One Vodka, pomegranate skin cordial, a beautiful egg white head, hibiscus, and black currant liqueur. Served atop a pot of liquid nitrogen, the stable foam and strong black currant flavors worked well with the creamy Creptouille. A take on the classic Ratatouille, these crepes were topped with a sage saffron, creamy sauce, baked and topped with arugula leaves.
Dessert Course
Tony mille-feuille was something of a little disappointment, the layers individually were crafted very well but the entire dessert disintegrated with one crack from the spoon which was otherwise supposed be layered. I would have liked it much better had it been bite-sized. But the classic pairing of chocolate, caramel, and strawberries made it a small win.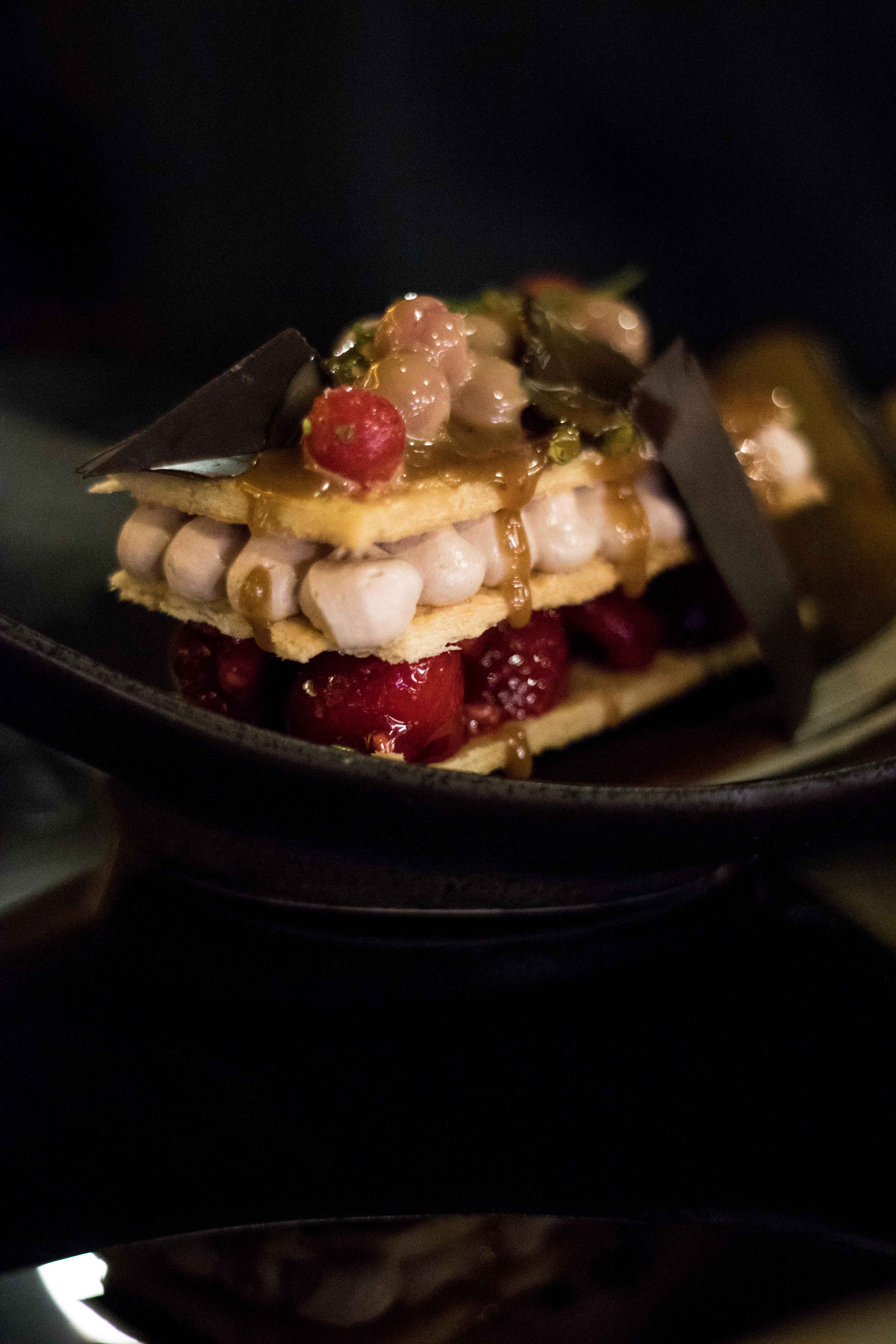 Overall, this place is an absolute bliss for cocktail lovers, they have got bitters from all over the world making them the best cocktail bar in the city. And they are pairing so very interesting food with their cocktails, love.
Where? Novelé, Shangri La Hotel, Janpath
Cuisine – Club, Cocktails, small bites
Price for two – INR 5000 approx