Olive's new menu is about flavors that are sourced from all over the world & while people think summer menu is just about the fruits its about the delicate flavors of everything the nature has to offer. Olive's menu is a refreshing change from all places having mangoes as the primary flavoring agent.

Olive's breathtaking ambience promises an experience that just out of this world, their summer menu is intriguing and complex with flavors intermingling into one another and creating a perfect menu.
We started off with a Welcome Drink, The Tripoli Punch. Tequila and iced tea came together for a perfect summer concoction.
Starting off with Melange of Beets with Chevre Semifreddo, a savory beetroot sponge with semi frozen gazette of French Goat cheese, a pickled beetroot with a tangy citrus gel and fig seed with honey tuile.
Along with that we had a Carpacchio of Tiger Prawns, While a Carpaccio is uncooked the pranws in Delhi aren't of that quality so here paper thin slices are sticked together with meat glue and cooked lightly and served with LICHE DE TIGRE, which is the highlight of the dish. It is also known as tiger's milk, is the citrus-based marinade that cures the seafood in a ceviche. Served with pickled purple potato and compressed radish this was a work of art no less.
Next was the Smoked Duck Breast Roulade with Liver Parfait, A choco bar of light chicken lover mousse and a roulade of duck breast wrapped in pulled duck rillettes. The liver bar wasn't as light as thought but the duck was splendid, it did not require any garnish and tasted lovely on its own.
Charred Vegetables with Chili Ceviche was up next with petite vegetables dressed in a special apple cider, with black fermented garlic and smoked yogurt dip. The garlic was a little strong but was a good flavoring agent.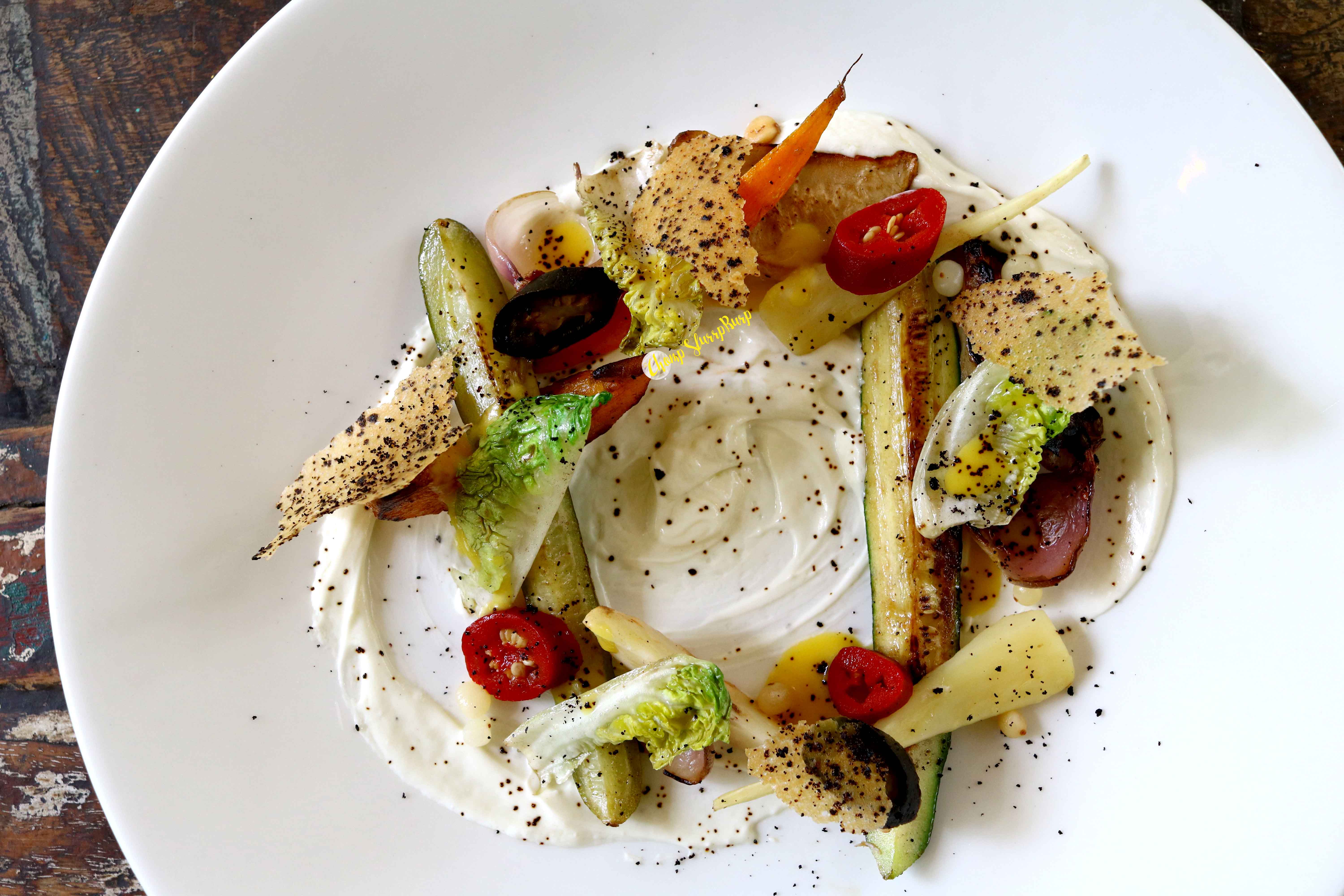 The use of local ingredients in world cuisine is now a concept that is very common, every one is promoting it and Chefs at Olive have taken it one step further with use of local millets and Kolkata black rice along with a bit of arbioro cooked together with wild mushrooms finished off with truffle mushroom paste.
Next up were another 2 star dishes, NZ Lamb Loin and Merguez and Belgian Pork Belly.
The medium lamb loin cooked on the bone was very succulent, the merguez was crusted with pistachio and the crispiness added texture to the otherwise soft sausage.
The Belgian Pork Belly braised in a flavorful white wine stock with a special kombucha honey and port wine jus.
The desserts are another story, Mango Cassata with light mango sabyon (a type of mousse) with frozen almond dacquoise and chunks of fresh mango, along with that another texture of mango, mango coulis which was delectable to the core.
My favorite was the Tiramisu Version-VII, A bar of Tiramisu, While this was a a bit complicated, it had a flavorful sponge with the cross section layered with beated mascarpone mousse and sponge spiked with coffee liqueur sponge, a covering of cocoa butter and expresso crust.
The perfect end to a perfect meal, while the menu at olive is very delicate and very intriguing, every dish is worth a shot, it just depends on what you prefer and what you not!