Reve
French
(n). dream
Reve is a gorgeous new entrant, with nuanced French dishes and a variety of craft cocktails. Quintessential French interiors, whites, blues, hues of vintage and greens all around. The menu is beautifully designed by Chef Hanisha and Chef Ishan. Classic, traditional French recipes, with slight tweaks. And a range of stunning cocktails by none other than Yangdup Lama.
Soups
We started with two hearty bowls of soups. French onion soup – the traditional slow-cooked onion broth served with an emmenthal croute. Roasted Cauliflower Soup – one of the most exciting soups I have had. With candied walnuts and blue cheese crumble, this packed a punch of layers. A spoonful with walnuts gave a more woody taste and creamier with a spoon with blue cheese.
Canapes
We tried salmon and cream cheese and chicken liver pate canapes. They also have a canape platter that you can opt for. The salmon was beautifully cured and topped with capers. The chicken liver pate was quite nicely done as well.
Cheese Platter
Baked brie embedded with rosemary, and roasted garlic, boursin, emmenthal and gruyere. With onion jam, walnuts and red grapes. Smear some boursin or bite into baked brie while you sip on a glass of wine.
Petit Plats
Chicken Cordon Bleu Bites – crumb coated, smoked ham, gruyere and deep fried. These crispy fried chicken bites are served over a bed of creamy dijon mustard. Great bar bites, but they did not hot the wow factor for me. Potato and Saucisson Sec – a traditional Pâte feuilletée with cured sausages, baby potatoes, cream cheese and a drizzle of truffle oil. This layered dough is a very interesting take on pizza. The potatoes and sausages pair beautifully with each other.
Le Plats Principaux
Pumpkin Mille Fuille – flaky filo pastry, a toothy roasted pumpkin with Goat's cheese, pumpkin puree and walnuts. With very country feels, the Pumpkin Mille Fuille is a genius dish, especially since it is vegetarian. Pork Normandy – slow braised Belgian Pork Belly, mash and apple puree. The Belgian pork belly is fattier than the regular pork belly which adds to the flavour greatly. The apple sauce lends a wonderful sweet tinge. I would have liked a creamier mash, however. Lamb Bourguignon – a traditional French recipe of beef bourguignon, beautifully translated. Slow cooked lamb, mushroom, carrots and shallots, red wine sauce and served atop a bed of mashed potatoes.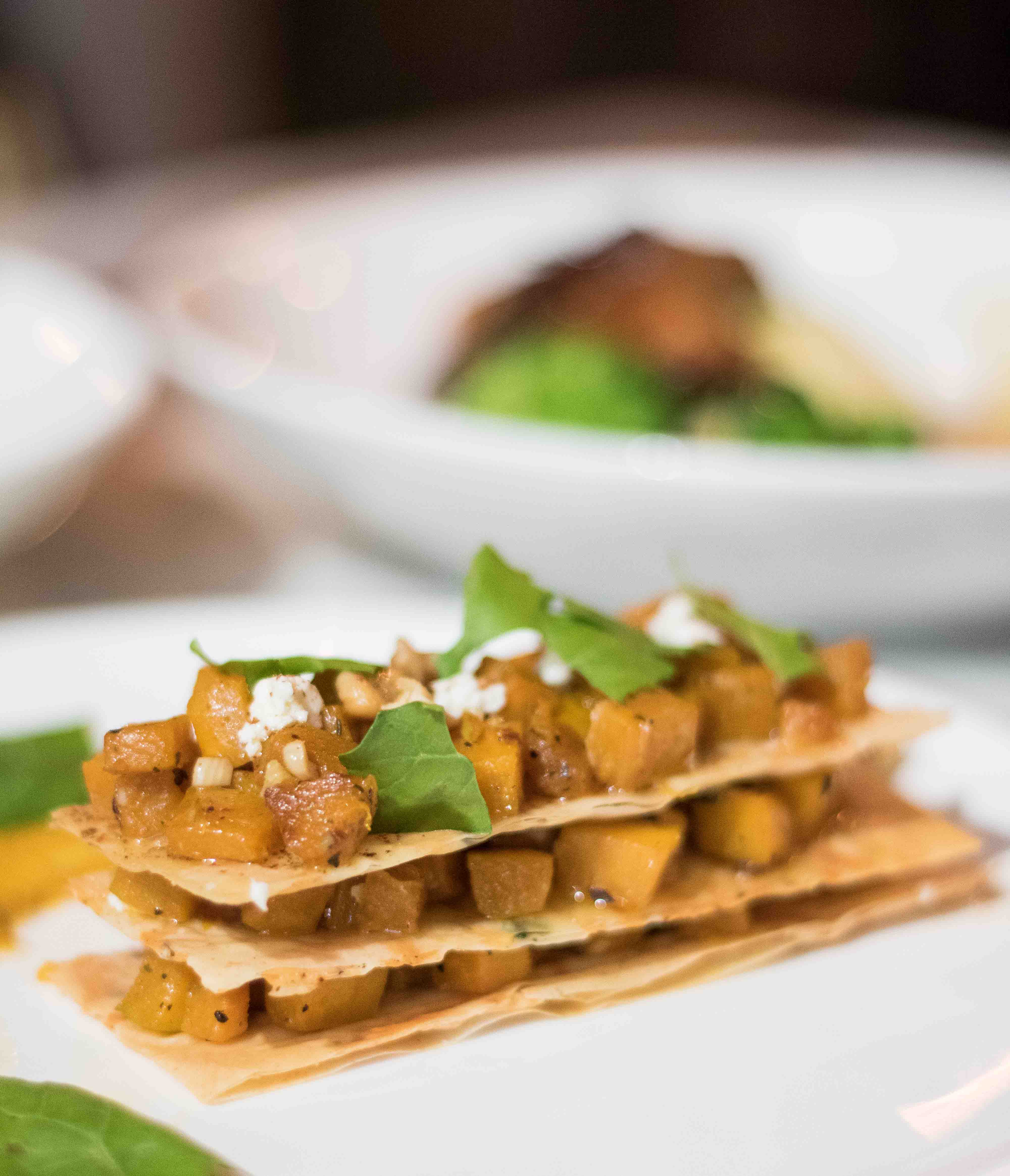 Pumpkin Mille Fuille
Dessert
The desserts were the most surprising part of the meal. Mocha Pot de creme – dark chocolate and coffee custard topped with dark chocolate shavings. The creamy custard is amazing but nothing to the Vanilla custard profiteroles. crunchy on the inside and filled with fresh creamy custard as you bite in. This is an explosion of flavours. Fresh fruits and a salted caramel drizzle act as the perfect finishers.
Reve is a beautiful property to visit especially to savour French cuisine without any pretentious frills. The roasted cauliflower soup, pumpkin Mille Fuille, lamb bourguignon and vanilla custard profiteroles are highly recommended.
Where? Reve, Lower Ground Floor, Worldmark 1, Aerocity
Price for two – 2000 INR approx
Cuisine – French