The China Kitchen by Hyatt most recently opened its doors to TCK by The China Kitchen at DLF Cyberhub. The much-awaited TCK phenomenally translates the legacy of the China Kitchen with honest and authentic Chinese. The Cyberhub outlet is spread over a huge space, a live kitchen and an envious dessert station. Think Sichuan and Beijing street style Chinese, served in the most exquisite manner.
Salads
TCK Salad – fresh crunchy vegetables, cherry tomatoes, and crunchy fried garlic with a light soy dressing. This is an exemplary piece of freshness but lacked the main protein to bring the salad together. Sichuan Spicy chicken salad – a tender shredded chicken cold salad, spicy Sichuan sauce dressing topped with sesame seeds. The melt in your mouth chicken, chilly oil, crunchy peanuts, served cold made this dish a star start to the meal.
Soup
I realized I had never really had Hot & Sour soup in all its authenticity. My prior experiences only included the ones at buffets and ready to make cups. Both of which happened to taste just the same. Hot and Sour soup with crab meat – light soy dressing, vinegar shredded carrots, cabbage, crab meat, and broth. I quite liked this version of it, so much fresher, I wouldn't mind topping it with some fried noodles though.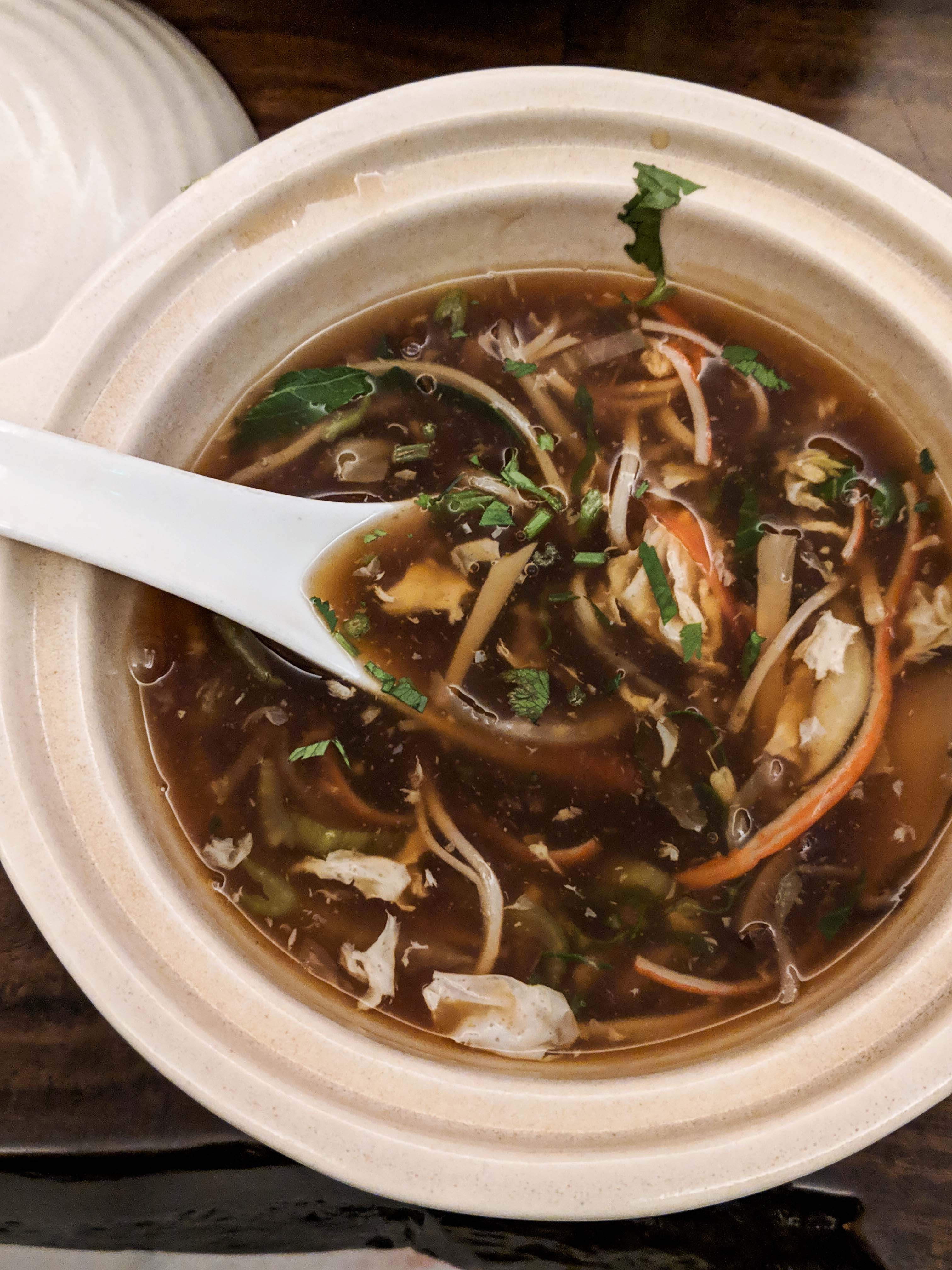 Dimsums
The dimsums were a special lot. Fresh, very well balance of textures and flavors and a brilliant black bean sauce that I teamed with them all. Crystal truffle mushroom –  an assortment of mushroom, lightly flavored with truffle oil. I loved how they did not go overboard with truffle oil. Chicken dumpling with truffle oil and balsamic. The presentation was absolutely novel, and stunning. A thick-skinned like bao, deep-fried, with balsamic and truffle oil that you inject into the baos yourself. Crystal shrimp dumpling – a classic! Freshly minced shrimps, crystal dumpling and an excellent bite.
More small bites
Pecking duck – Beijing Pecking duck is one of the most iconic dishes. A signature at TCK, this simply cannot go amiss. Crackling pieces of duck served with a crepe and the sweet and irresistible Hoisin sauce. BBQ Vegetable Puffs – made into cutest faux ducks. Thin sheets of puff pastry, stuffed with a medley of vegetables. Slightly oily, the vegetable puffs were another piece of art though.
Mains
We tried some extra-ordinary main plates teamed with fried rice, noodles, and steamed buns and baos. Hunan spicy sliced pork – with celery, pepper, leeks, with a steamed bun. Kung Pao Chicken – spicy, peanuts, cashews, whole garlic and spring onion sprigs. Sizzling spicy cumin spiced lamb – with bell pepper and coriander. Three different proteins and all done up admirably. Honey glazed prawns – jumbo prawns, lightly tossed and glazed with honey served with sesame walnut. One of the most amazing prawns ever, cooked to perfection.
5 spice lamb shank – slow cooked 5 spice lamb shank, mushroom, cabbage, broccoli in a light broth with coriander bun. The lamb shank was too lightly flavored for my liking and didn't translate too well. Wok-fried veggies in garlic sauce – flat beans, pokchoy, and water chestnut tossed in a classic garlic sauce.
Dessert
With one of the most amazing Dessert stations, we delved into a platter of their best. XO chocolate cigar, Jasmine tiramisu, Peanut butter Opera cake, Lychee Panna Cotta, Mango pudding, Strawberry ice cream and chocolate rocky road. My favorites from the lot have to be the lychee Panna Cotta and chocolate rocky road ice cream.
TCK by The China Kitchen has some beautiful dishes to offer. A brilliant range of dimsums, meats, and the most unique presentation. My top picks? Mushroom truffle dumpling, Pecking duck, jumbo prawns, kung pao chicken, and lychee Panna Cotta
Where? TCK by The China Kitchen, DLF Cyberhub
Cost for two – 2000 INR approx (without alcohol)
Cuisine – Chinese