Tum Tum Asia has taken a flight from Dubai to Nehru Place, New Delhi. Originally vegetarian, Tum Tum Asia is all about authentic pan Asian cuisine with a twist. This Dubai brand has opened its door here in Delhi with a mix of both their vegetarian classics and meaty stuff. The place is done with quirky paintings all over. Tuk-Tuk pertaining to many Asian countries is the main inspiration. Tum Tum Asia pans through the different countries, lots of fusions and classics.
Sushi
We started off Black & Gold. Chef's specialty, this is created with unparalleled creativity but failed to be impressive. The rock shrimp tempura was amazing on its own, the entire charcoal sushi had a very dry aftertaste. The gold dust isn't an integral part of the dish. The Tropical Cucumber sushi, on the other hand, was a bomb. Fresh cucumber, pickled radish, and gari, very refreshing. Sushi Doughnut – a very interesting take on sushi. A rice doughnut topped on each side with salmon, tuna, gari and nori and a layer of crab meat. I quite enjoyed it. 
Dumplings
We were amazed by The Naked Cactus. Well done chicken rolled into balls with rice stuck on it like a cactus. The tummy sauce with it added another level of flavor but the dish was complete on its own. Peek-a-Boo was another spectacular preparation. Assortment of mushroom, steamed in a perfect thin skin. Topped with fried garlic, this was an absolute winner. Prawns Bloody Mary Hargao were served in a sort of weird egg tray with shells. A little disappointing, prawns were apparently marinated in bloody mary mixture before steaming them. They were served with coriander broth that didn't go too well with dimsums. Lamb Sui Mai – another charcoal preparation. This was insanely good. Succulent meat, in a charcoal black skin, steamed to perfection.
More Appetizers
Another extraordinary preparation was the charred Soya wings. Even though I have never liked Soya but this really changed my perspective, perfect, crispy Soya wings and potato wedges served with ample dressing and greens. We also had Korean Chicken which was a decent preparation but had a bit of oil in the crust but the flavors were good enough. The Tummy Chicken Kulfi was not entirely apt for an Asian Restaurant. Really well minced and pickled chicken served as a kulfi on skewers with makhini gravy all over. Although the dish was very unique and interesting, it didn't fit into the Pan-Asian setting.
Mains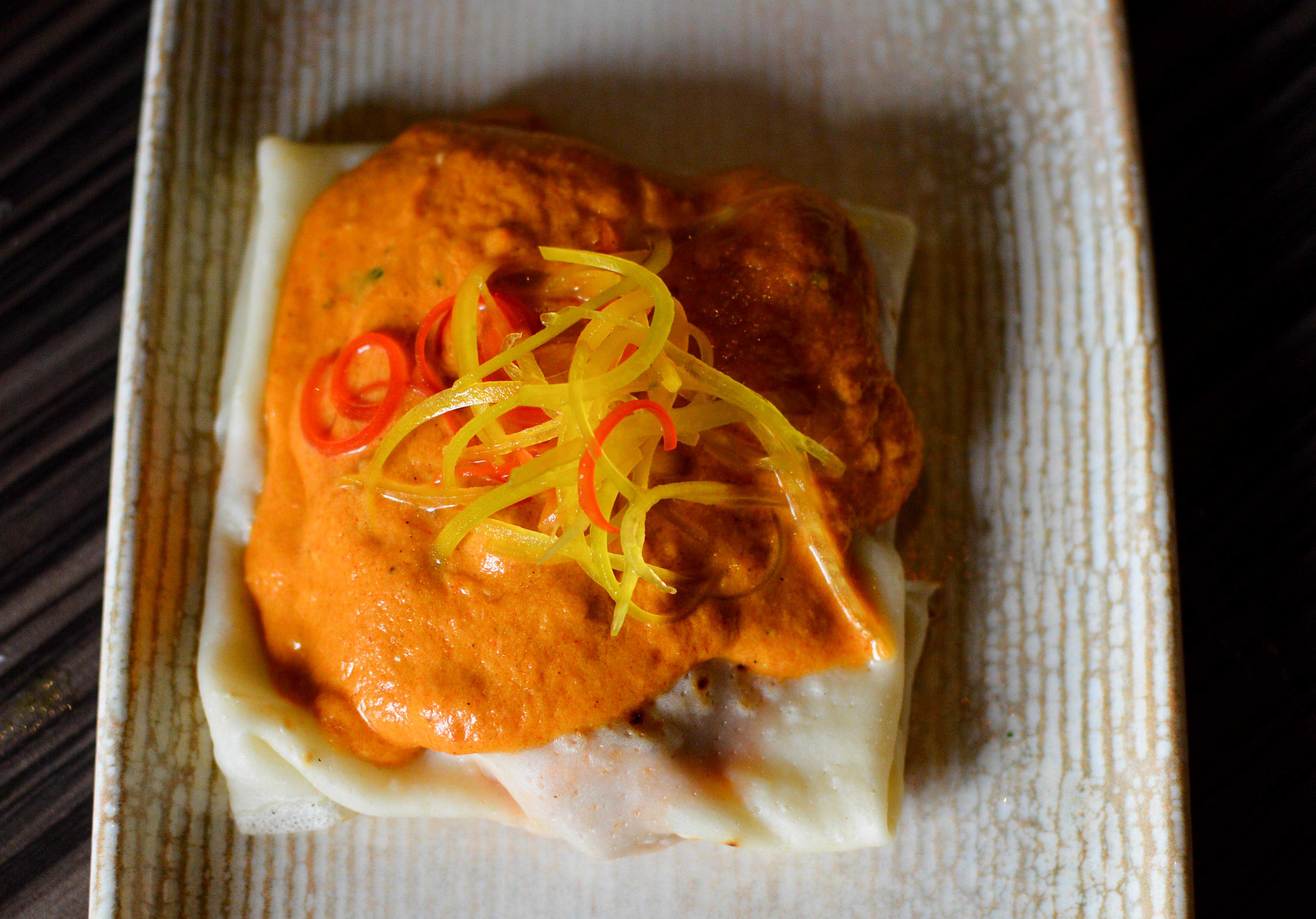 Last up was the Chicken Changezi Martabak, which wasn't Changezi but more of a Makhini gravy. And unlike the traditional Martabak, the rice crepe along wasn't crispy enough.
Tum Tum Asia had its fair share of hits and misses. I would definitely recommend the Soya Wings, mushroom and lamb dumplings.
Where? Tum Tum Asia, Ground Floor, Eros Tower, Nehru Place
Price for two – 1400INR approx
Cuisine – Pan Asia