Coconut prawn curry with black rice – With the elongated winter this season, we are still blessed to chomp on fresher than usual seafood. So, it comes without a doubt, a lot of fresh coconut curries, prawns for lunches and dinners. Over time we have learnt so much more about prawns, started receiving fresher produce and most importantly, learnt not to overcook them. Here is a classic prawn curry teamed with the forbidden black rice.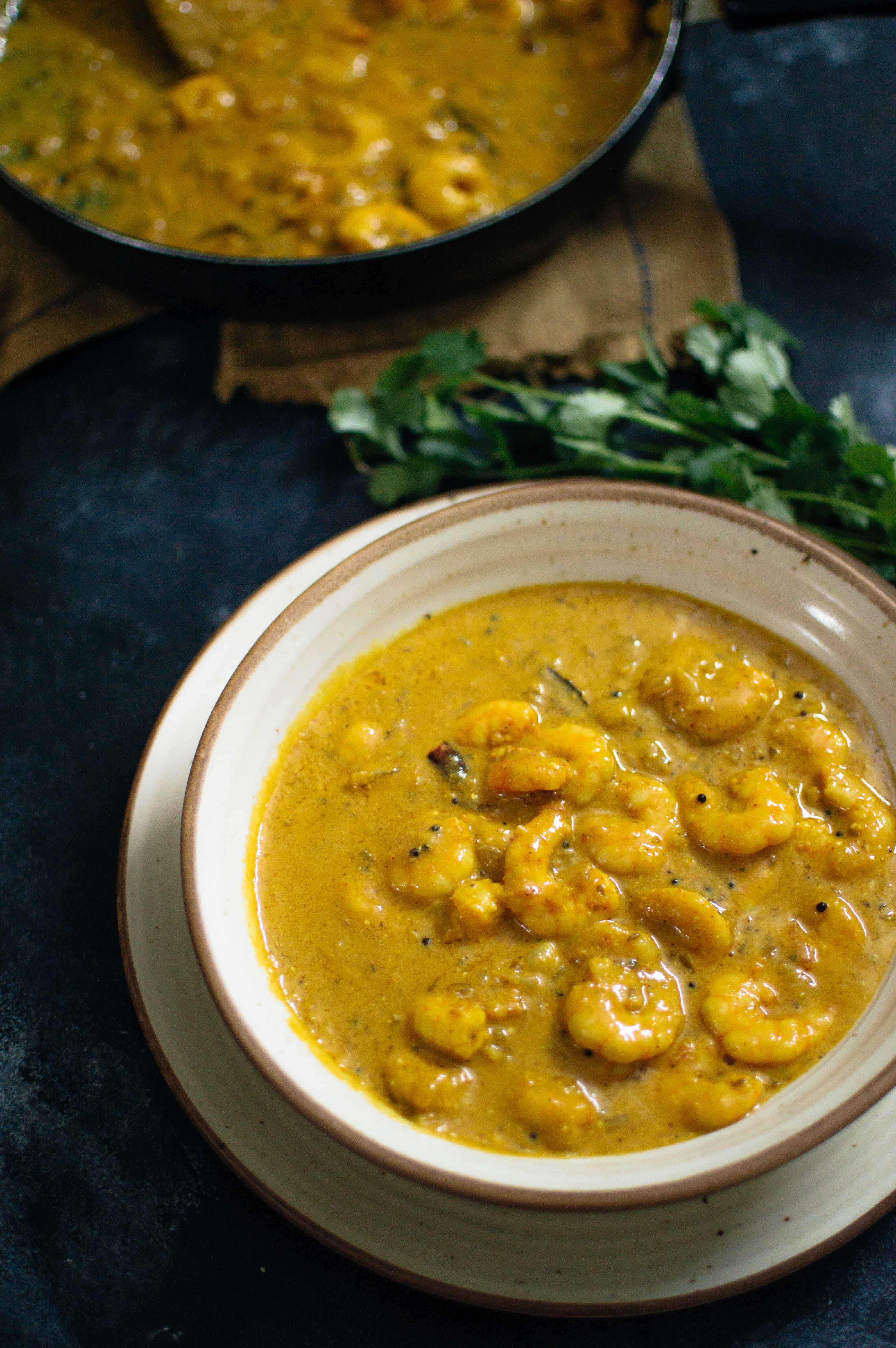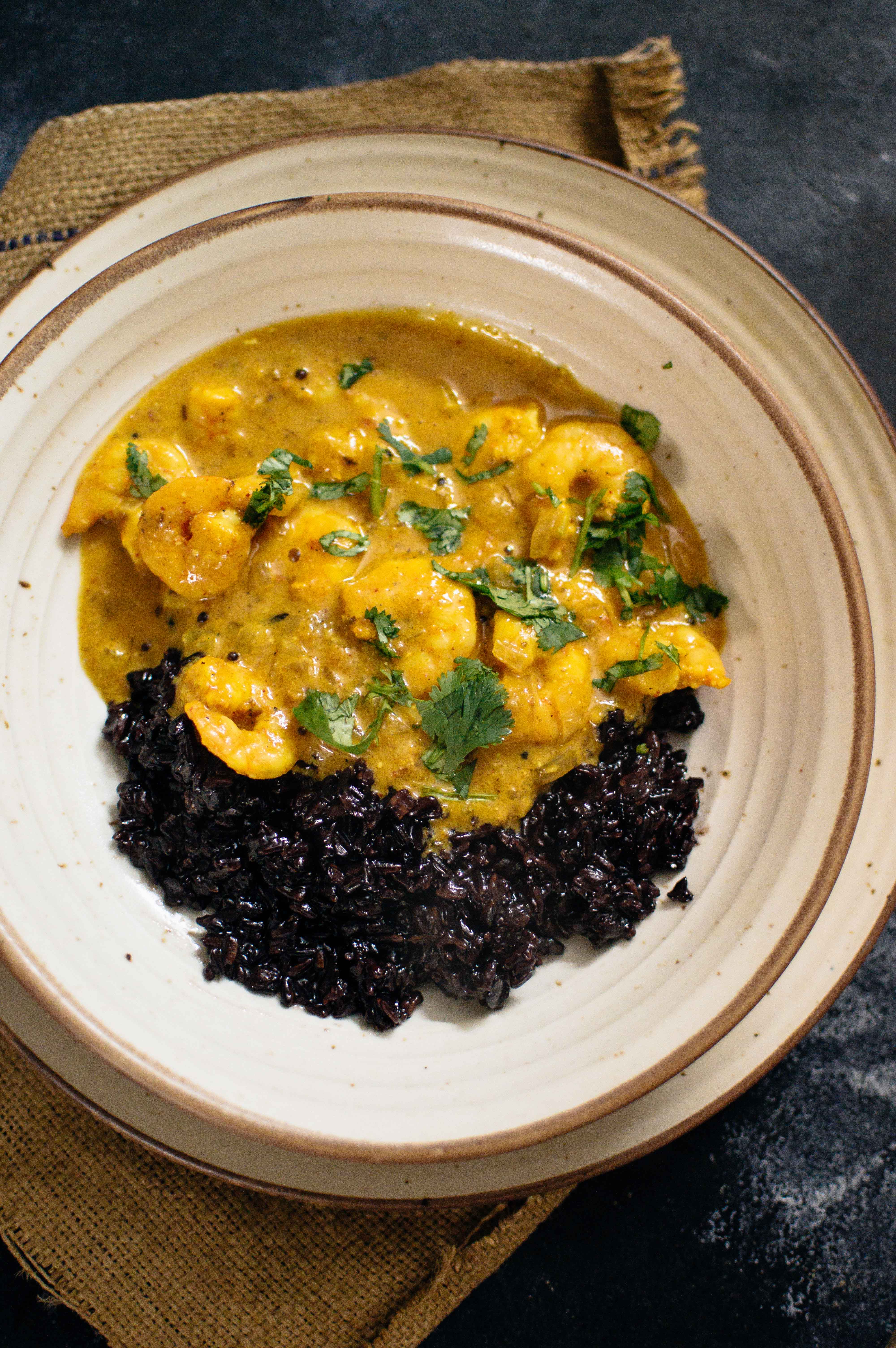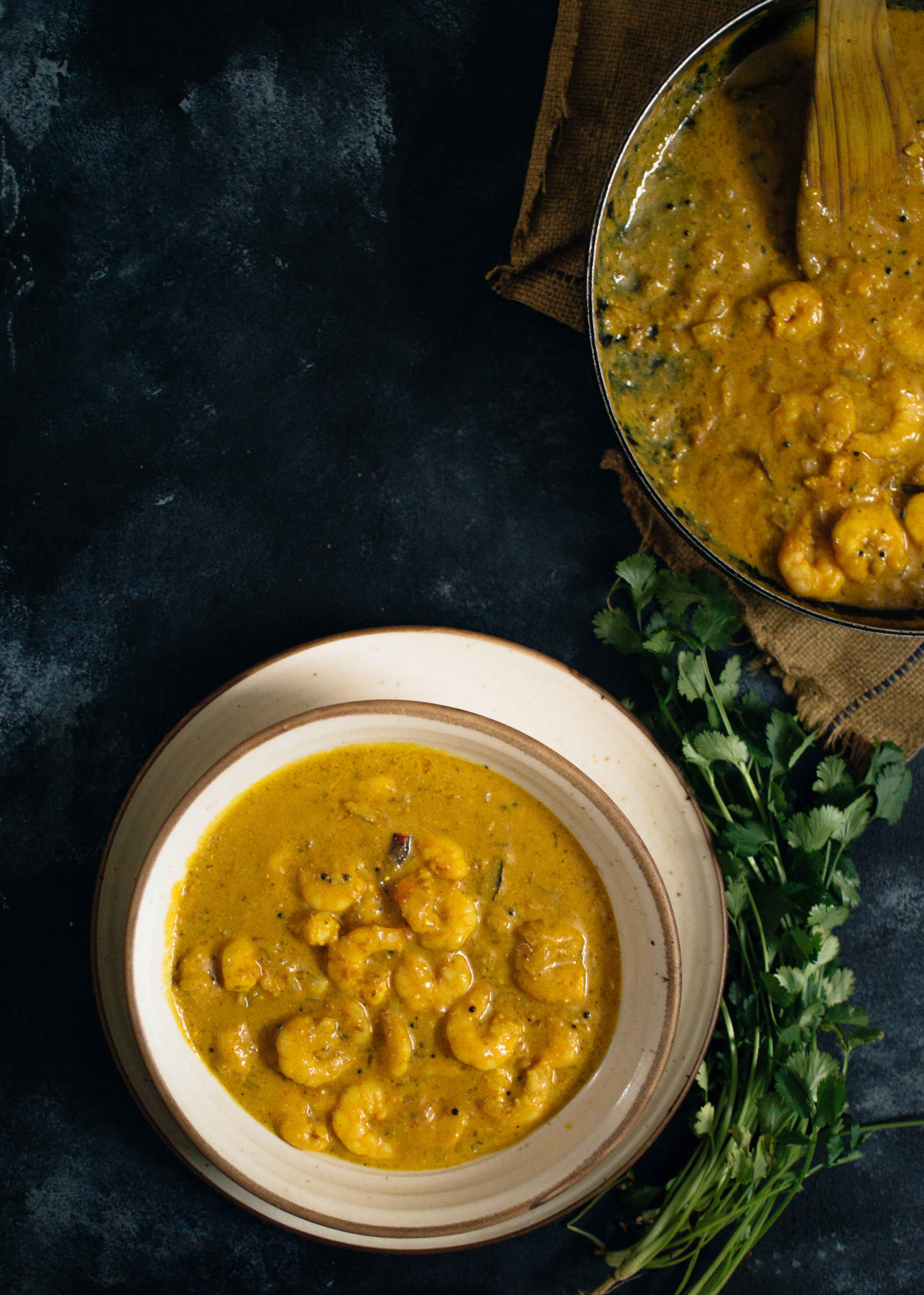 Ingredients
Prawns – 500g
Onions – 2 medium, chopped
Tomatoes – 2 medium
Mustard seeds – 1 tsp
Whole red chillies – 4
Turmeric – 2 tsp
Salt – to taste
Cornflour – 1 tsp
Fresh coconut milk – 2 cups (Check out the recipe for fresh coconut milk here)
Black rice – 1 cup
Method
Thoroughly wash the prawns and marinated with turmeric and salt for half an hour.
Heat 1 tbsp of desi ghee in a pan, slowly add the prawns to cook. Medium sized prawns only take about 3 minutes to cook. So, keep the flame low and cook until the prawns just become opaque.
Remove from the pan and transfer to a plate. Excess cooking of prawns leads to a chewy and unappetizing one.
In a pan or kadhai, heat 1tbsp of desi ghee till melted. Add the mustard seeds and whole red pepper. Turn the heat down so that they don't burn.
Add onions, cook till transparent.
Season with turmeric powder, Red chilly powder and salt. And cook for 2 minutes.
Next into the pan, chopped tomatoes. Cook while stirring till the masala all comes together.
Mix cornflour into the coconut milk (prevents it from splitting) and add to the pan.
Add the cooked prawns and bring to a boil.
Turn off the heat and let the curry stay for at least half an hour before serving.
For the black rice
This is a tricky one and I had a lot of hit and trials myself before getting this right.
Wash the rice 4 to 5 times or until the water is completely clear.
Soak the rice in 1 cup water for 1 hour.
Transfer into the pressure cooker, add 1.5 cups of water and cook for about 25 minutes.
Happy Chomping 🙂